CFOs and finance professionals should take what they learned from the current lockdown during COVID-19 and implement it in everyday work at the finance function.
The COVID-19 crisis and the global lockdown has pushed us to adapt to new ways of working – also within finance. In our latest webinar, How Finance Can Use The Crisis To Prepare For The Future, we sat down with Claus Finderup Grove, CEO at Konsolidator, and Anders Liu-Lindberg, Partner and COO at Business Partnering Institute.
We tackled the question: "How can I take what I have learned from the crisis and implement it into my finance function?"
In this blog post, we summarize the answer to this question and explore 4 megatrends in finance. 
Productivity levels in uncertain times  
We have learned so much about productivity during the recent lockdown, including what makes it increase or decrease. Most of us probably went through the curve below. megatrends in finance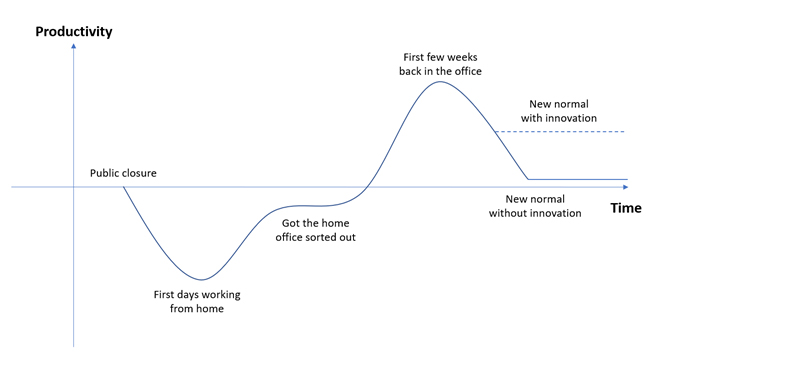 In the first weeks of the lockdown, we were confused and did not quite know how to settle into working from home. This led to a drop in productivity, but eventually, we developed a routine. Then, productivity increased again and stayed high, even in the first few weeks back at the office. Now, it is a matter of taking insights from working at home during the lockdown and implementing them in the office to maintain a higher level of productivity. 
Here are the 4 megatrends that can help to increase productivity.  By embracing these trends,  you will be able to prepare and drive your finance function into the future.
1. Remote work – the new normal in finance
Is remote work the new normal in finance? Yes, but there are pros and cons to it. The positive thing about working from home is that you will have more time for focused work; you will not be disturbed as much by talk in the office or questions from colleagues.
You will not have coffee breaks to chat with your colleagues. The lack of social breaks and disturbances can lead to an increase in efficiency and productivity. Not being disrupted will also make you feel less stressed because you can stay focused on the task at hand, and you will get a lot more done when working from home. You can also structure  your time schedule as it suits you best. This flexibility will also increase your level of efficiency since you will be in a workflow that enhances your productivity.
But, being at the coffee machine and talking to your colleagues is not just a time-consuming break during the day, it is also a way to create strong relationships. Interactions become more formalized when you miss out on the social part of being a member of a team. Another disadvantage of missing out on the coffee machine chatter is that informal strategic brainstorming is going to be difficult to do. Most challenges, new methods of working, and trends are often discussed over a cup of coffee at a small break. megatrends in finance
The conclusion must, therefore, be to combine the best of both worlds. Find a balance that works best for you and your company, so you are able to leverage the benefits of both working from home and at the office.
2. Speed up the digital transformation in your finance function
Will finance become 100% digital? The tools are available for finance to be 100% digitalized, but we need to change our mindset and speed up the process of digital transformation.
The first step in the process is to accept that you can't take giant leaps all the time, small steps are also good. In fact, small steps are better than not taking any steps at all because they will add up to bigger steps in the end. Look at what challenges you and your team are facing today and think about how these challenges could be solved through digitalization. Think about how you can use software tools to improve the workflow and increase productivity.
Here, it is important to note that new software should add value to the business, such as  making a process easier, faster, or better. Digital transformation should never be a strategy in itself. It should always be a question of enablement. So, ask yourself: What is it that I am enabling by implementing this software.
If you face roadblocks along the way, you can still take steps towards going digital. Say, for example, you are not able to convince your leading manager that the digital way is the way to go forward. Don't just sit and do nothing, because then nothing will happen. Start by slowly getting to know and use digital tools you find interesting during your off-hours. Then, the next time your manager is asking for a specific report, then show your manager how easy you managed to deliver with the help of amazing software. It might seem like a small thing to do but doing a little is better than not doing anything at all and lagging behind.
So, get moving!
3. Adopt an agile mindset : The role of finance professionals will change
An agile mindset will enable you to be a part of the changes within finance instead of lagging behind. During the crisis, we saw a need for agility. We saw the need for changing reporting, forecasting more frequently, getting new information that we did not know about before so we had to act fast. Some were even forced to innovate fast because the tools that could allow for agility in their finance teams were not in place already. 
During the COVID-19 lockdown, we had to adapt quickly to a new and uncertain situation. You have to leave room for uncertainty because you can not know everything in a world which is moving as fast as ours.
Reporting in finance will change. You and your company will get access to much more data in the future, and you need to find out what to use it for and how to use it. Finance should be a trusted adviser who will be able to analyze and use data to support decisions. When moving towards data-driven decision making, it will no longer be enough to create reports on a quarterly, monthly, or weekly basis. Producing financial numbers will overtime be done by robots, because instant reporting will be needed. Due to this the role of finance professionals will change. Your role will evolve from a producer of financial numbers to an analyzer of those numbers. megatrends in finance
4. Develop capabilities for ever-changing environments 
An important point to consider is that digitalization, agility, and changing the way we work in finance is not about cutting employees. It is about making the work easier and more efficient for the employees. There will still be humans employed in finance functions in the future regardless of digitalization, implementation of robots and other software. But the role of these finance professionals and their assignments will change. As mentioned above the role will move from being a producer of numbers to a user [analyzer] of numbers because the company will need someone to interpret the financial figures and put them into a business perspective. This aspect is why humans will become even more important with the huge amount of data that will become available
To take on a role like this also means that you have to dare step out of your comfort zone once in a while and become a part of the business as a supporter of the decision making. So, be curious, test new methods and software, and dare to go in new directions. You should always try to develop your skills and train yourself for radically different capabilities because you will need this to succeed in the digital future.
Would you like to get more advice on how you can use the recent COVID-19 crisis to prepare for the future in finance? Watch the webinar "HOW CAN FINANCE USE THE CRISIS TO PREPARE FOR THE FUTURE" on demand. megatrends in finance