What you will get out of reading these key webinar takeaways:
A little bit about finance's love of Excel – why all accountants love Excel.
An insight into the many other possibilities within consolidation for finance.
Where Konsolidator fits within the solutions available
All finance people love Excel – it is easy to understand why
As a finance professional, how you attack this task of automating and streamlining your consolidation process is individual. But one way that is not automation is staying in Excel. And before you come up with all your excellent reasons for keeping Excel, know that WE ALL love Excel in finance – and that we do not question your skill level. No, what we question is the opportunities you miss by staying in software that demands, frankly, too much time. A time-use that will only increase as your company grows in size and complexity – and your time is valuable.
In the webinar, Jette, former CFO and finance manager, shared her love and, well, her "less love' of Excel. Especially when the company becomes dependent on a too-complex spreadsheet. Working in finance and management, Jette has experienced many of the same challenges you see within your finance departments today. Furthermore, she has focused on finding the right tools to solve them.
"I have worked extensively with Lean, looking for the right tools to digitalize the finance functions. And, yeah, that has been great and very exciting, but I also know there are always many projects within a finance department."
To stay or not to stay… in Excel
It is easy to understand why finance professionals love Excel; Excel is excellent for sorting your data alone due to its flexibility, and it is comforting to work in something you are used to and know:

can do your calculations.

can make your diagrams that fit into an Excel presentation.

the formulas are already built in Excel, but you also can make your own 

already is a part of your Microsoft license.
However, when its flexibility and your skills reach their limits, it becomes frustrating to work in. Therefore, these two should be your key indicators of when to stop. Don't continue to build it bigger – you risk making it so complicated it requires too much of your time. Stop when:
It takes time to make the calculations.

It crashes, maybe because your Excel sheet is too big

You start finding broken links, errors, or wrong formulas.

You can not work with more versions of data.

And even more critical, your entire finance team depends on the person who created the sheet.
But if you still believe the love outweighs the negativity and want a clear cut for when you should move on from your beloved spreadsheet.
Example: When group structure's complexity soon is too big for excel
Below is an example of a complex group structure too complex for the beloved spreadsheet. With subgroups, and multiple eliminations, this example is not for Excel; it is too advanced, with too many layers.
Overview of the different consolidation possibilities
If you are considering automating your consolidation process, there are multiple possibilities outside of Excel, even though Excel is still one way to do it. In the image, you can see five, including Excel; let's look at them and their strengths and weaknesses: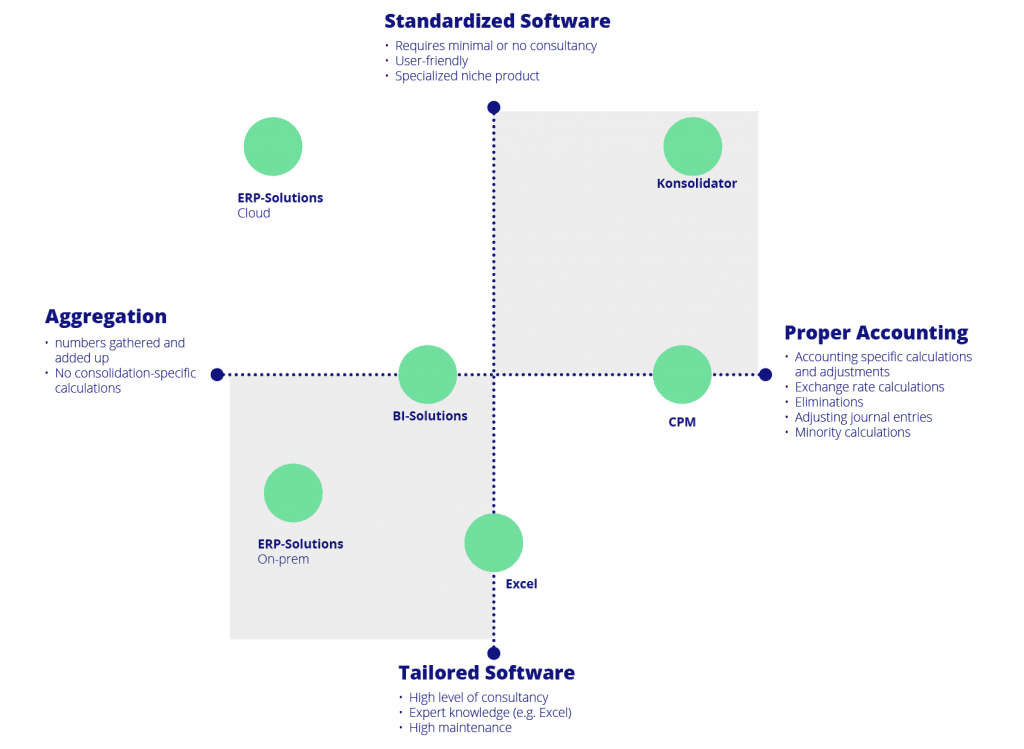 Excel – most manual solution
Now we have talked about when you should move away from Excel. But it doesn't mean it cannot be used for consolidation, especially when you are a very small group, but it has limitations. We define a small group with less than five entities and a simple structure. 
Excel is very tailored, as you have created the entire spreadsheet from scratch and are probably the only one who dares to edit it. For a small group with no complex structure and in-house Excel skills, you can build it.
On the accounting level, it is not made for proper accounting, mainly because you cannot do postings – you cannot do regular finance, but of course, you can show data and calculate it. However, when your complexity increases, the skill level it requires becomes exceptionally high, especially if you want to create a more flexible and error-free working document.
ERP – aggregating your numbers
Then there is the ERP (accounting) system. If your entire group uses the same system and you have no complexity, ERP is a possibility. It can be on-prem (tailored) or cloud (standardized). Compared to Excel, it will remove time spent on maintaining a spreadsheet. However, it aggregates the figures instead of doing proper accounting. Proper accounting is where you get help to do consolidation-specific automated calculations, like minorities, repostings, exchange rates, adjusting journal entries, and eliminations. And you will need to keep an eye out for if it can create a cash flow and budget.
But the great thing about ERP solutions is that many have cloud versions, which are very easy to integrate with other consolidation solutions.
Bi solutions – grouping and analyzing numbers
Bi solutions can also be good if you consolidate small groups. However, Bi solutions are great for analyzing figures and most useful within sales and its data. It is a really fascinating solution when you want insight into all the costs related to, e.g., sales because it updates your figures daily, so you get it quickly.
It is still closer to aggregation than proper consolidation. And you build up your Bi against Excel. So again, it requires advanced Excel knowledge to finalize your consolidation.
The three we just mentioned are all fine in their own way, but if you go with them, it's essential that you look into your group and see what it needs – and you do not choose them just because you know them.
CPM – the big guy
We all know the larger legacy CPM systems, which have been on the market for years. An excellent consolidation solution for huge groups to help streamline consolidation data with a high level of complexity. If your group is often too big for regular solutions, you buy the CPM systems, most commonly built on-prem and customized to your needs. Today, you can also find a few cloud versions. However, both on-prem and cloud require experts to manage its functionalities due to CPM's complexity and possibilities. For example, added functionalities include budget/planning solutions.
An excellent tool that can do proper consolidation but is very consultant-driven. As these legacy solutions target large and complex groups, they can be a bit complex to use, but again it depends on the complexity of your group's consolidation.
Konsolidator – the standardizer
Our solution, Konsolidator, is another way to do consolidation. If you are too big and advanced for Excel but still too small to buy the legacy software – then Konsolidator might be something.
Konsolidator is standardized and flexible software for small- or medium-growth companies. It means that it's 100% cloud. You can create companies and users without requiring help from external consultants. What you get is what you need to do a proper consolidation: as simple to use as Excel, you get streamlined data for your group, and you do not depend on one person.
This software is built for consolidation and nothing else. Integrating it with users' already existing accounting software is simple – thereby creating a complete data flow.
Conclusion
In conclusion, if you are a finance professional looking to automate and streamline your consolidation process, many options are available outside of Excel. While Excel may be a beloved tool for many accountants, its limitations can become frustrating and time-consuming as your company grows in size and complexity. By considering other options, you can improve accuracy, reduce errors, and free up valuable time for more strategic tasks. Options such as cloud ERP systems, BI solutions, or specialized consolidation software like Konsolidator.
The five consolidation solutions presented in the webinar were Excel, ERP, BI, CPM, and Konsolidator. Excel is the most manual solution requiring advanced flexibility skills and error-free working documents. ERP is suitable for groups all using the same accounting software with no complexity and standardizes the consolidation process. BI is ideal for analyzing and grouping figures but is closer to aggregation than proper consolidation. CPM solutions have a way higher price but offer more comprehensive consolidation features than ERP. Konsolidator is an easy-to-use and cost-effective solution that provides the functionality of a CPM.
You can read more about our software here or book a 1o-minutes discovery call.